BREAK THE BRAKE WORLD TOUR IN WARSAW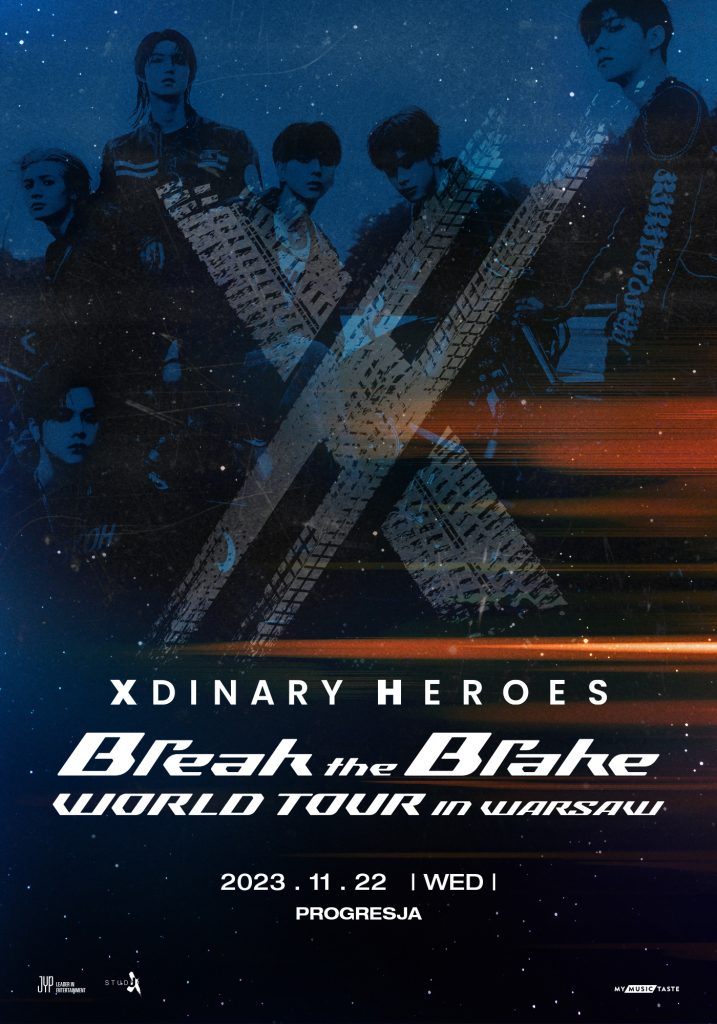 Rising Korean rock band, Xdinary Heroes is heading to WARSAW to meet their fans through their World Tour IN WARSAW on November 22, 2023, at Progresja.
Xdinary Heroes is a sextet Korean rock boy band that debuted under label JYP Entertainment in December of 2021. Members GUNIL, JUNGSU, GAON, O.DE, JUN HAN, and JOOYEON gather to showcase a unique synergy that is reflected in their dynamic music and performances. The band proved their extraordinary popularity, positive public reception, and musical talent when they won Best New Male Artist and Best Band Performance at the 2022 MAMA AWARDS.
This past July, Xdinary Heroes held their first official fan meeting since their debut, demonstrating their status as the heroes of live performances. They showed off a unique rock band energy and led the audience to sing along passionately. With thrilling live stages which excelled the full band's charm, the concert hall transformed into a rock festival site. Additionally, the setlist contained an abundance of variety, including slower songs where fans could wind down and enjoy the emotions that come with slow rock ballads. Throughout the fan meeting, Xdinary Heroes gifted fans with special stages exclusive to the fan meeting to express enthusiastic affection and gratitude for their Villains (official fandom name).
Their recently released album, "Livelock," captured high anticipation and attention from Villains and the general public even before its release as every member participated in songwriting and composing. The 'Instrumental Live Sampler' and 'Track Video' especially represented their constant musical growth, allowing the group to reach even more audiences around the globe. Through this, they captured the hearts of various music fans worldwide.
With this album, Xdinary Heroes continue on their journey to being "the next K-pop super band". After the tour announcement, they have quickly garnered keen attention from local fans and global fans alike as they anticipate making memories together through their first world tour.
Their tour pre-sale will start on October 20, 2023, at 4:00 PM (CEST) and the general sale will begin on October 23, 2023, at 4:00 PM (CEST). If you have requested Xdinary Heroes x WARSAW on MyMusicTaste, your unique, one-time-use promo code has been sent to your MMT-registered email. Enter your promo during checkout to redeem your presale benefit!
*If you are not a MyMusicTaste member yet, join us at mmt.fans/OQq and show support for your favorite artist(s)!
Ticket sales for this tour will start on October 20, 2023, at 4:00 PM (CEST).